Podravka proclaimed Producer of the Year, Lino Lada Gold Product of the Year
Podravka wins prestigious Golden Basket awards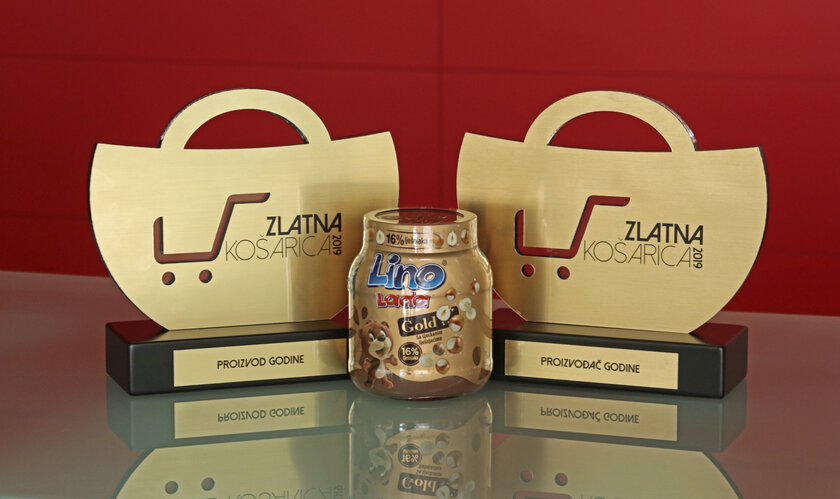 The Zlatna Košarica (Golden Basket) is an award given out for the fourth year in a row by the specialised magazine for retail sales and the FMCG industry, Ja TRGOVAC (I, The Buyer). In the Westin Hotel's Crystal ballroom, the award ceremony was held for the very best in class, with Podravka winning in two of six categories. The decision was made by a special panel of experts and representatives of professional institutions, on the basis of received applications, available indicators, and conducted analyses.
In the category of Producer of the Year, Podravka took first place thanks to its record business results in the past year, improved employee rights, development and strengthening of brands, and receiving numerous recognitions during 2018, thereby once again confirming its leadership status in the FMCG industry.
On the basis of analysis of the market and environment, through the Lino Lada brand, which was recognised as a high quality and reliable brand, a new product was launched – Lino Lada Gold. This chocolate spread with pieces of hazelnut completed the Lino Lada product line, making the Lino Lada brand the brand with the largest selection of flavours, and also making it the market leader. Thanks to this accomplishment, Lino Lada won the Golden Basket award in the category of Product of the Year, confirming its status as one of the most successful new product launches.
In winning the Golden Basket award for both Producer of the Year and Product of the Year, Podravka has confirmed its leadership status as a company, and its products have been recognised as being of high quality and reliability.
The Golden Basket award is a recognition given for particular accomplishments of a company over the past year, and indicates the best examples of business and market success among industry members. The awards have been given by the Ja TRGOVAC (I, The Buyer) magazine for retail sales and the FMCG industry since 2016. The panel deciding on the best of the best in the sectors of retail sales, production and distribution of widely used products is made up of experts and representatives of professional institutions, on the basis of a substantiated application, and examples and proof of the success of strategy and business policies. This year's panel was made up of representatives of the Croatian Chamber of Economy, Croatian Chamber of Crafts, Croatian Employers' Association, Croatian Consumer Protection Association, Croatian Retail Union, Economics Institute Zagreb, Hauska&Partner, GfK, Deloitte, Focus market research, Hendal, Ipsos, Ja TRGOVCA, Nielsen and Valicon.