Podravka "spiced-up" the exhibition match of ATP Umag opening
Istraturist and Podravka rewarded the audience in Umag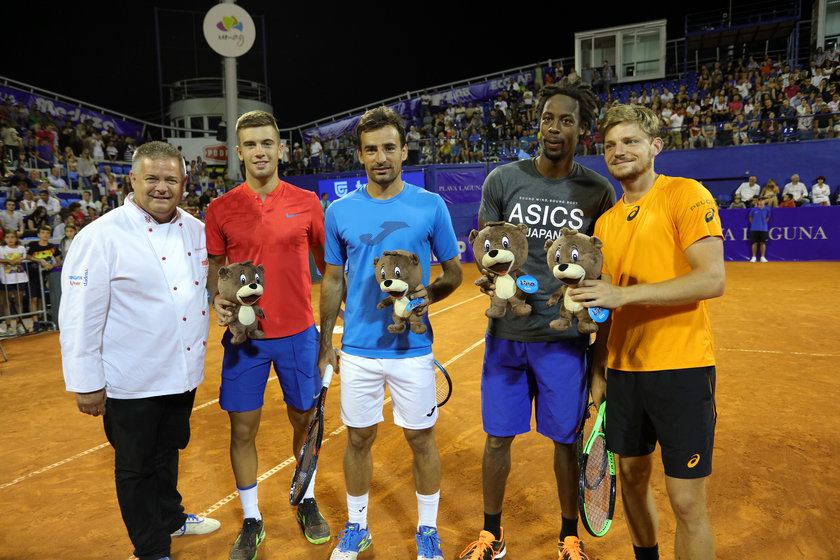 An exhibition match has for a long time been a symbol of tennis tournament in Umag, and this year it was additionally "spiced-up" by Podravka.
Stars of the exhibition match, tennis showman Gael Monfils, David Goffin, Borna Ćorić and Ivan Dodig, were shooting balls towards the audience, and the challenge was to catch those with hearts. Four lucky and skilled spectators were rewarded by Istraturist with a trip to ATP Finals to London, which will gather eight the best tennis players in the world, and Podravka provided gift packages.
Lucky winners and tennis fans Gordan Fran Mileusnić and Mika Kaplan will enjoy the unforgettable journey and supreme tennis experience at ATP Finals in London. Gift packs by Podravka were awarded by Podravka's culinary promotor Dražen Đurišević, who on the occasion confirmed that Podravka's chefs are also good tennis players. Namely, in his cooking uniform he played a game the stars of the exhibition match and thus thrilled the audience in Umag.
During the match Podravka's culinary promotors prepared delicious treats, so the audience had a chance to enjoy double pleasure – exhibition match and delicious bites.
Podravka is a long-year partner to the greatest Croatian ATP tournament, one of the most significant sport and social events in Croatia, which has grown into a strong promotor of Croatia, its tourist offering, but also of leading Croatian brands.