Podravka's culinary break with British MasterChef
As part of the final day of New Europe Market, international conference which gathers professionals from TV industry in Dubrovnik, Podravka organized a culinary break with the winner of British MasterChef Dhruv Baker and Podravka's culinary specialist Mišel Tokić.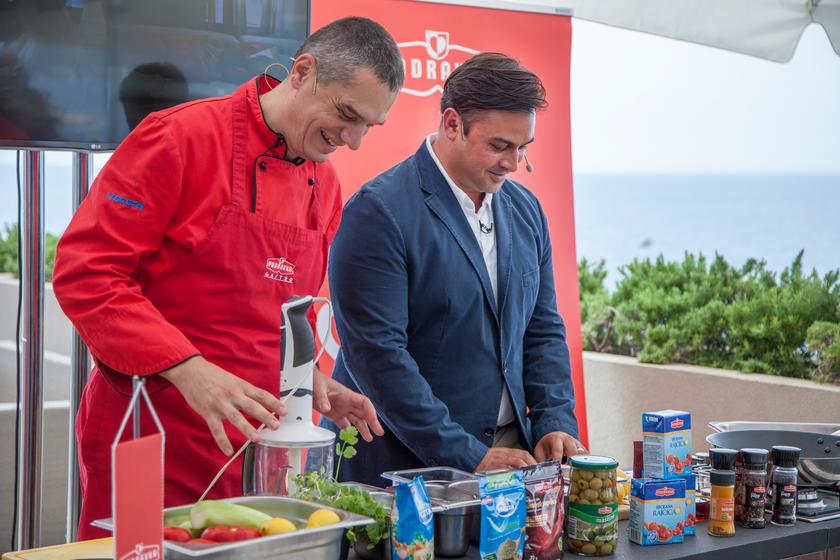 These two professionals will join forces exactly at noon and give the conference participants an exclusive opportunity to taste their two specialties – gazpacho, cold Spanish soup, with the main ingredient of Podravka's chopped tomato, then chicken with Podravka's stuffed olives, chick pea, turmeric, ground pepper and Vegeta for finish.
Before the cooking, a brief panel discussion was organized at the beginning of which this British culinary star Dhruv Baker will use the opportunity and show a trailer of his latest project, the first Croatian gastronomic travel show in English language - Croatia's finest. The purpose of this travel show, where through 20 episodes Dhruv visits Croatian cities searching for new gastronomic experiences and discoveries, the purpose is to show the gastronomic offer of Croatia, Croatian cities, natural beauties and Croatian products. Parts of this show were also filmed in Koprivnica and Podravka. "You cannot come to Croatia and not hear about Podravka, primarily for the wide range of products it has in the market. During my stay at Podravka I have learned even more about products, but also about its history. I found out how Podravka originated and having found that out, I have even more respect and appreciation of what it grew into today" – Dhruv Baker said.