Chairman of Bosnia & Herzegovina Presidency Dragan Čović visited Podravka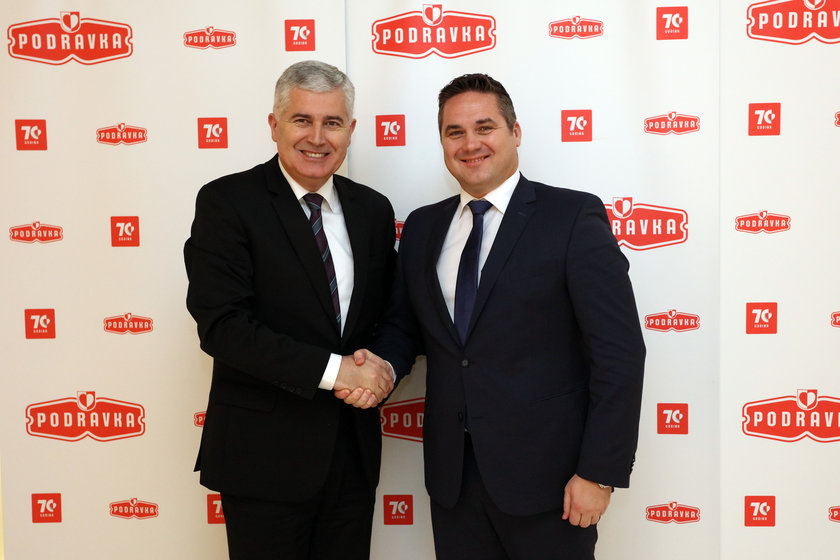 Chairman of Bosnia & Herzegovina Presidency Dragan Čović visited Podravka today. During the official part of the visit Marin Pucar, Podravka Management Board president and his associates, presented Podravka's business, focusing on Adria region and especially Bosnia and Herzegovina, and the range of food and pharmaceutical products Podravka offers to the consumers on Bosnian market. During the visit, Bosnian guests visited Soups and Vegeta Factory there they were presented with the production process of renowned Podravka products.
Considering the presence of Podravka products on more than 90 percent of points of sale, dr. Dragan Čović said that Podravka lives with every family in B&H. He also pointed out the long-year cooperation with Podravka on Mostar fair which is contributing to the business connection and tradition preservation.
Podravka Management Board president Marin Pucar pointed out that the Bosnian market is a part of Podravka's strategic plans and Podravka is open to new projects, which will include not only sales of Podravka products but also increase of production in pharmaceutical industry.
Owing to the trust of its consumers, Podravka is the leading food brand in the Adria region, and after the Croatian and Slovenian markets, Bosnian is the most significant and the largest. Podravka Sarajevo in Bosnia and Herzegovina was registered in December 1992, and started operating in March 1993. Employing today more than a hundred workers and about the same number of subcontractors it is one of Podravka's companies with the highest number of employees.
At approximately 6 thousand points of sale around Bosnia and Herzegovina, more than 800 Podravka products are available.
Podravka Group has been present on Bosnian market also in the pharmaceutical industry through Farmavita, i.e. Belupo that is Farmavita owner. Transferring the technology and Belupo's knowledge in pharmaceuticals production, over ten years the number of medications being produced in Sarajevo has increased significantly, and the number of employees doubled. On Bosnian market Belupo is present with 47 medications in 82 forms and doses, and Farmavita with 24 medications in 45 forms and doses. On Bosnian market Belupo's medications carry the status of a domestic product, and have a faster and guaranteed access to positive list of medications.